There are people we meet along the way that seem to have a glow that radiates outward and Edwidje is one of them.

~~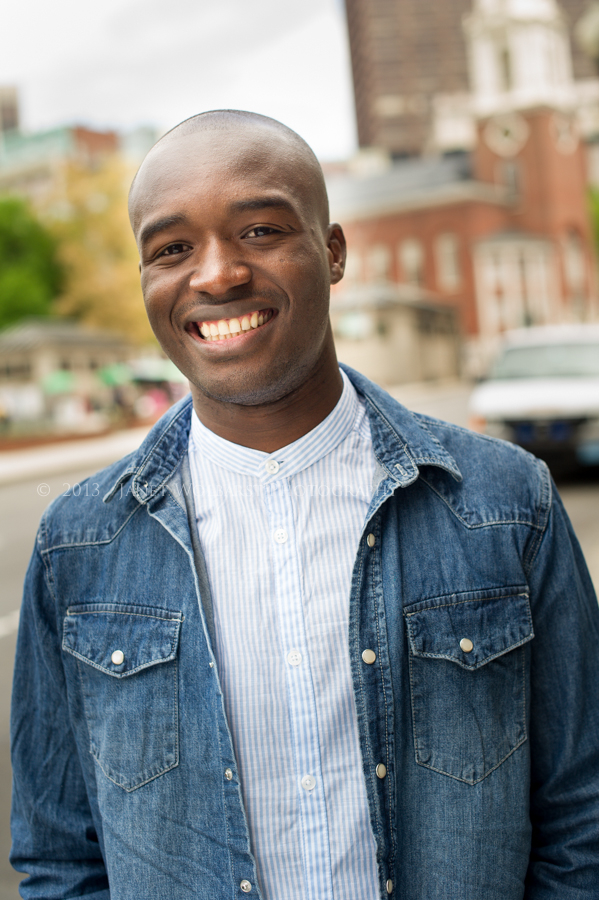 ~~
Edwidje is currently living at the Bridge Over Troubled Waters Transitional Home in Brighton, a place where homeless youth are given the chance to grow a foundation.  We met him through a move for another Bridge client who he had come to help because of a language barrier.  
The other youth spoke only Spanish.
Edwidje speaks English with a little French, but the language of friendship entitled him to a role of translator.  
He was a joy to share the afternoon with, assisting his friend in choosing furnishings from the furniture bank.  
He had never heard of Emotional Intelligence, but we assured him he had it in abundance.  
Here is his story:
~
…..this is written by Wendy Price, who has interviewed many Bridge clients and written various pieces that have been used for Bridge PR. She can be contacted at: wendybprice@gmail.com 
~
Edwidje, at 22, has a smile to brighten the cloudiest of days and a warmth about him that can't be taught. He was born in Haiti and brought to the US with his dad when he was 12, leaving behind his divorced mother and other siblings. His dad is a man filled with unselfish love that he admires and loves very much but to whom he feels he can't relate. "I was a kid…I'd come home from school and ask 'How was your day, Dad?''Good'… 'How was work?''Good'…so I'd just go to my room". I wanted to talk, but he just didn't know how to. It was like I was a baby and I grew up to be a big guy but our relationship never formed."  After a successful HS career and excelling in soccer in suburban Boston he headed to college. Unfortunately he followed his roommate into a world of partying and it flipped his life upside down. This was unacceptable to his dad and after returning home, he knew he had to leave to look for 'whatever I was going to look for'.
He headed to NYC, lost, trying to make something happen but not knowing how.  Six months of living in shelters quickly taught him that Manhattan was the toughest place to be on the streets. When he wasn't in a shelter, he couldn't find a place to shower, bathrooms were for customers. He'd intermittently go to a shelter to shower and brush his teeth. He would sometimes sleep on streets and say "God- I'm in your hands". With one dollar in his pocket, he  survived on $.15 bananas for days.  But there were no jobs to be found and he didn't like what NYC was doing to him. "The lessons of the street are priceless. You quickly learn to not judge a person on how they are dressed. I learned moral values and mental strength and knew that I wanted to do better for myself."
From NYC, Edwidje decided to go south, having checked it out at the library.  He read that there were plenty of jobs and that the cost of living was low. Along the way, he met people that would ask him what he was doing and where he was going and told him that they saw something special in him. A few people would hand him a $20 and tell him to get some food. He'd use the money for a bus ticket. On the bus, he helped a guy with his luggage and was given $5 that managed carefully, helped him to subsist on peanuts for $.15 a day.
At one point, he walked over 100 miles. He met families that took him in to shower and rest.  He lived with a pastor and her family for 2 weeks and they wanted him to stay, but he couldn't find a job in the small town. This eventually lead him to San Fransisco where, after sleeping for 2 weeks in a chair due to overcrowded shelters, he met another family at the rescue mission who again, saw something special in him.  He ended up living and working there for 8 months when he decided it was time to stop running.  He decided to take a bus back to Boston to get his life on track, knowing he was in a stronger place mentally and spiritually, feeling stronger everyday. "Each of the people I met along the way, I am still connected to. They take me as family. It has been a blessing."
After 3 years on the streets, Edwidje landed at Bridge which he holds as dearly as his spirituality. "My faith allowed me to build myself and my moral values and Bridge has given me the opportunity to plug in and organize. If you do your part, they will help you get to place where you can make progress in life.  Without Bridge, and this is truly from deep in my heart, I would still be wandering through Boston trying to find my way.  As soon as I met Bridge, they helped…everybody…helped me make a smooth transition to better myself. That's priceless.  You can't pay money for that.  They are not just giving you things- they empower you to get in a better place."
Edwidje has just found a full time job for which he is overjoyed. He is enrolled for college classes in the Fall.  "This is the best summer of my life. I am in the right place, leading me to the place I need to go. I am so grateful for everything that Bridge has done for me."  And for those of us at Bridge, we too, are grateful for knowing Edwidje.  
He will be another Bridge success story.
 ~