Wendy and I met Seth at the same time, at her first trip to Bridge Over Troubled Waters in Boston. I've been volunteering there since 2009, photographing the clients, giving them a 'face'.  This was Seth's first day at Bridge, the excitement and nervousness was there but we knew he was special.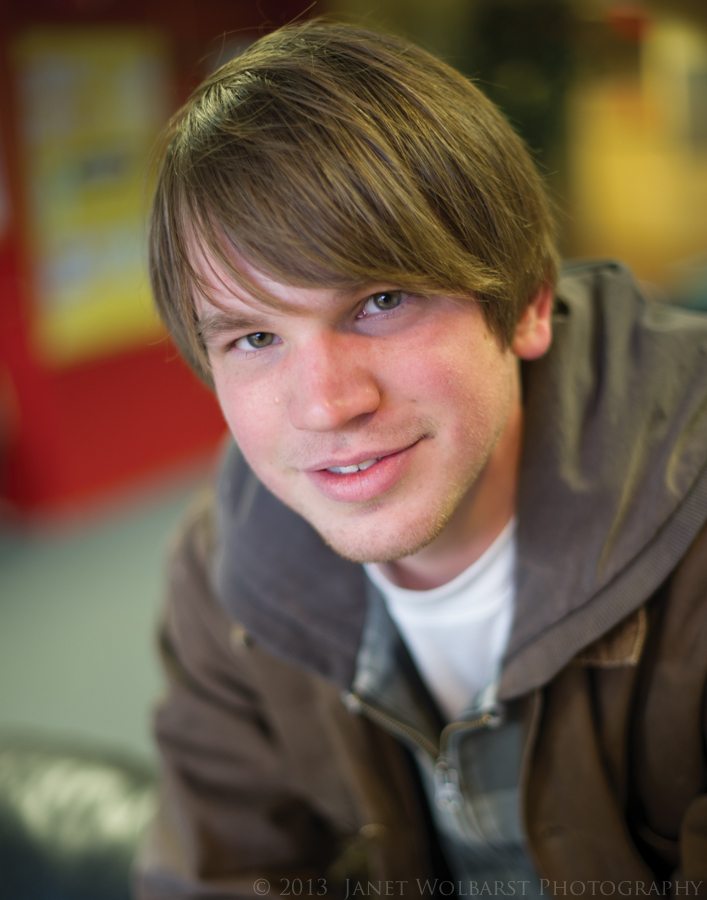 Seth passed away unexpectedly in April. Wendy and I went to his Memorial and below are her thoughts. Please take the time to learn about Seth, who he was and how he affected those who knew him. Rest in Peace, Seth, your pain is gone.     ~ Janet
Reflections of Seths Funeral  –  Wendy Price
Having no idea what to expect, we showed up at the Cathedral of the Holy Cross, the church President Obama had visited a few weeks prior following the Marathon bombing and the start of Boston Strong.  We were the first to arrive, Janet carrying the photo that captured the life, now gone, in Seth.  The cathedral was massive and beautiful and you could feel it's history.  While the front row pews seemed miles away from the pulpit, it was how it'd been done for centuries, just unfamiliar to us.  In time, the space disappeared as the one column of thin rows began to fill. Facing us in the distance was the photo that Janet had lovingly taken, framed and placed, facing our small group who had known Seth for less than a year.
You could feel the discomfort in the 25 or so youth who had shared living space with Seth at the Bridge Over Troubled Waters Transitional shelter.  You could read the sadness in some, while others paced or sat attempting invisibility, trying to shield themselves from the emotions that were too familiar and too painful.  You could hear the pain in the heart wrenching sobs of some of the caseworkers, whose sorrow couldn't be contained.  There was talk of his brilliance, of his knowledge of classical music and composers, his love for philosophy, his comfortable, friendly and easy company.  Seth apparently hid his burdens well.
And, then, we witnessed one of the most gracious, generous, brave, human acts of kindness.  Seth's mom approached the pulpit and introduced herself. She explained how strange it was to hear Seth spoken of as homeless. "He had a home…. he was not homeless. We begged him to stay, but I knew if we forced him, he would hate me and I couldn't bear that".  She spoke of Seth as a young boy, who climbed the backyard tree to sit on the roof of the neighbors barn when he needed some thinking time. She could have forced him to stop, but again, knew that he would hate her if she did, so she called the neighbor and asked if it would be OK for Seth to sit on the top of the barn.  And then as he got older, he would go on long, very long walks. She would get calls from friends telling them they had spotted Seth walking along the side of the highway.  "If I had stopped him, he would have hated me".  Seth's hunger for experiences and for learning was complete. If he was curious, he sought out all information and retained it.  He was 'different'.  He was 'unbound-able' because she was not going to put him in chains. She knew her son and she cherished him.
I remember Seth talking about imagining being homeless being so different from actually being.  He spoke of trying to get by having lost his ID, computer, personal belongings in his impounded car when he arrived. He was my first interview at Bridge. I didn't know if some, or all, or none of what he was telling me was true.  I didn't know if he was making up names of philosophers and authors and musicians to impress me but I had an inkling he was not. He was just clearly more well read.  When his mom spoke of the pain she felt when he called home telling her how difficult it was to get by without his ID, she begged him to come home. Pleaded with him. But she wouldn't force him cause he would hate her.
She thanked each and every one of us in attendance for welcoming her son. She thanked and praised the youth and staff at Bridge for accepting him into their 'family'. She completed a picture for us, each with our own version, as the tears flowed outwardly and inwardly.
Simony, Seth's roommate was the second to ascend the stairs to the microphone.  He told us how Seth used to make such fun of his accent and the respect they had for each other. Through his heavy accent, you could feel the depth of their relationship and the pain left in this young man in missing his friend. Asha stepped next to the microphone, unaccompanied and sang "Amazing Grace" for her friend, for us, in this massive cathedral. Another homeless 'kid' doing the unimaginable- with immense courage, a broken hearted friend sharing her lovely voice. Seth's caseworker, Rose spoke of how Seth would come to the office to hang out and talk. Through her tears, it was clear how much she admired and enjoyed this young man for his spirit, intelligence, passion and good humor.  This was far more than a job to Rose and the other caseworkers.  They created a family in which Seth was a vital part.  Edwidje, a young Bridge client I had met previously, sitting next to me, dressed in a crisp button down and khakis, explained that even though he didn't know Seth well, he knew that they had a great rapport and really enjoyed hanging out and laughing together.  Each person had their own Seth story.
Keith Lutz, American Idol contestant, was summoned next with his guitar and sang "It's Going to Rain', a song composed and borrowed from a friend. His voice filled the entire space with perfection, paying tribute to the pain felt in the loss of Seth and how even though we are told it will be OK in time, we just might not be there yet.
And then, Father Joe Baggetta did a remarkable thing. He addressed the reality of the pain Seth must have been in to have taken his own life. He didn't tiptoe around it, and in doing so, helped us all to release the unspokenness of suicide and accept that Seth had made his choice and we needed to find a way to accept it and to keep him alive in our memories.  We needed to honor him as his mother had done since the day he was born. We were then asked to create a line leading to Janet's beautiful photo of Seth, and one by one, say our own quiet good bye. Each courageously climbed the carpeted steps, pausing in front of Seth's smiling face.  And as each of us descended lost in thought, we were met at the base of the stairs by Seth's' mom.  She wrapped her arms around each and every one of us, whispering thank you, with such gratitude and authenticity that it could burst your heart.  One by one, each of us received our hugs and provided hugs in return.  It was powerful and beautiful and a beginning.
Loitering, as the line was winding down, was the last of the Bridge youth.  She paced away from the line, unable to go far, circling, struggling, unable to approach the photo.  Rose gently went to her, and took her elbow to help direct her toward the stairs.  She was reticent and afraid and battling with herself.  Rose intuitively knew what needed to be done to help Seth's friend as she held her, coaxing her toward the photo and finally, up each step,  leaving her to climb the last on her own.   Her momentary shuddering shoulders told the story as she, with mastery, shook off her tears, resumed her brave face and made her way back in our direction.  Without Rose to guide her, she would have sidestepped the hug. Unknown to her she was telling a story with no words, the story of so many Bridge clients.   It took a few seconds for all arms to be involved, but then it lasted it a little longer on the other end.  For these homeless kids, this was a hug from a loving mother, expressing gratitude and acceptance.
At the luncheon following, the mood lightened as strangers and acquaintances made small talk. The food was provided by the owner of the restaurant where Seth had been working in the South End.  He had become a valued employee, so much so that the restaurant had received a note of appreciation from recent customers whom he had served.  It reminded me of our interview when Seth proudly told me that he had held many jobs and had never been fired from any.  This is just another small piece of the story, but one that illuminates how incorrect we can be in our assumptions.
In conclusion, is this about Seth and the choice he made, a mother and family's love, homeless youth and the caseworkers who care for them or is this about the footprint we leave and the reverberations in the decisions we make?  I guess that's a philosophical question which is so fitting in Seth's honor and memory. He left his mark on each of us and will not be forgotten.